What is their purpose?
The MAIA Young Agents Committee (YAC) operates as a volunteer committee. It encourages young insurance professionals to expand their industry knowledge and network while increasing involvement and awareness of MAIA's advocacy initiatives, products, and services.
Do I qualify to join in the activities the committee is putting on?
To qualify as a 'Young Agent,' you must be a member of the Massachusetts Association of Insurance Agents (MAIA),  have worked in the insurance industry for under five (5) years, OR are 40 years of age or younger. A "young agent" does not have to be a licensed producer. (Some YAC events, like the golf tournament, are also open to everyone.)
What if I have questions? How do I join to get notifications of the Young Agents events?
Please get in touch with Kathleen Murphy or Heather Kramer!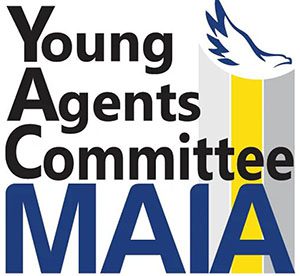 MAIA's Young Agents Committee plans a roster of activities throughout the year! Please join us at any of these events. Information regarding the event and registration options is distributed approximately a month before the event.
March 29, 2023 - Principal and Young Agents Night! Apex Center, Marlboro, MA

April 26 – 28, 2023 - IIABA Legislative Conference Renaissance Washington DC Downtown Hotel, Washington, DC

May 17, 2023 - Clinics & Cocktails, Granite Links, Quincy, MA

June 14, 2023 - YAC Golf Tournament, Pinehills Golf Course, Plymouth, MA
September 27, 2023 - Softball Game with YACs from RI, CT, ME, and VT, Lakeview Coburn Softball Field, Worcester, MA
October - TBD
November 2 – 5, 2023 - MAIA's Big Event 2023, Westin Seaport District, Boston, MA
2024 YAC Events will be posted soon!
While we support many organizations and/or charitable events throughout the year (such as the Veterans, beach clean up's, etc.), two organizations that are a constant for us are IIABA's InsurPac and The Make-A-Wish Foundation!   If you would like to help and support these organizations, please feel free to donate now!
InsurPac
IIABA's Political Action Committee works hand in hand with the Big I advocacy team to promote, protect, and perpetuate the Independent Agency System. Donate online today! (Please check "YES!" for Young Agent!)
Or send a check payable to "InsurPac" and mail to:
InsurPac
20 F Street NW
Suite 610
Washington, DC 20001
*(All forms of payment must be by personal check, credit card, or non-incorporated LLC or Partnership).
Make-A-Wish, Massachusetts and Rhode Island Chapter
A charitable organization that grants 'wishes' to children facing medical challenges.
Perpetuate the support of MAIA.
Promote involvement in and awareness of local and state activities of MAIA.
Develop leadership abilities of young agents in Massachusetts.
Maintain an effective means of communication with other young agents in the state.
Promote involvement in the Big "I" (IIABA) national activities.
Increase awareness of independent agents in Massachusetts.
Provide educational and networking events throughout the year.
Participate in community-building activities and other social causes.
Monica Adwani
BRZ Insurance
Cassandra Koegel
Eastern Insurance
Kyle Austin
Austin Insurance
Evan Dowd
The Dowd Agencies
Kate Kauffman
Philbin Insurance Group
Bill Walsh
Duffy Insurance
Rebecca Smith
Feingold & Feingold Insurance
Adam Risman
Risman Insurance Agency